Oromia Bank received the ESQR award for the 2nd time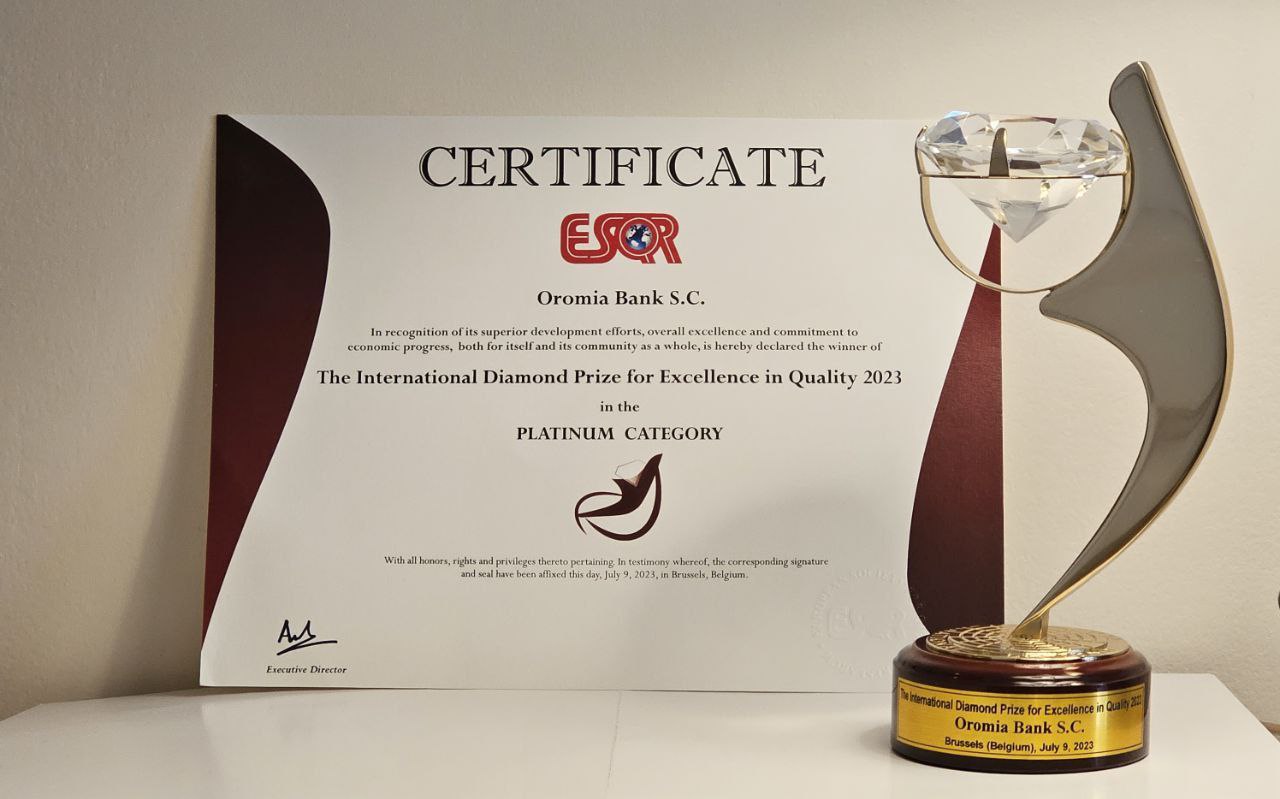 Oromia Bank was awarded the ESQR International Diamond Quality Excellence Award for the 2nd time. ESQR announced its statement that it has been awarded the 2023 Global Diamond Award for Quality Excellence for the second time in a row at a ceremony organized by ESQR in Brussels, Belgium on July 2, 2015. ESQR put quality first;
ESQR is a veteran institution with a long history of being awarded by international business institutions that excel in their work performance. the institution is known for its prioritization of quality.
In this program, 49 successful business institutions from 42 countries engaged in various sectors were recognized, and Oromia Bank announced that it has won this award for the second time in a row by ranking among the top business institutions with global influence.
 Oromia Bank win has displaced previous winners of ESQR for the 2nd time
Ethiopian Airlines, which is the pride of Africa, is one of the institutions that have gained fame by winning this international award in the past.
The bank's chief executive, Mr.Teferi Mekonon, who received the award in Brussels, Belgium, expressed his honor and happiness that Oromia Bank has been awarded the 2023 International Diamond Quality Excellence Award and said that this success was achieved due to our special focus on providing customer-centric banking services.
He added that this international recognition strengthens our determination to realize the global institutional change we have started and our customers' needs for modern banking services.
This kind of international recognition motivates us more to provide modern and efficient banking services, and the guarantee of service satisfaction to our customers gives us more energy to diligently fulfill our promise. Chief Executive Officer of the bank, Obo Teferi Mekong added, to the honorable customers who contributed to this success.
Oromia Bank announced its establishment with an initial authorized capital of 1.5 Billion Birr on the 18th of September,2008, and started its operations on the same year on the 25th of October, 2008. The Bank was known under the name of "Oromia International Bank" for 13 years of its operation(2008-2021)
Oromia International Bank made a change to its name and company logo on the year of 2021 which was a year before its first ESQR award win in 2022.