Addis International Bank Review

NR & FCY Accounts
Consumer Goods Purchase Saving
Revolving Credit
Consumer Goods Purchase Saving
Accessible loans granted to purchase consumer goods
Pros and Cons
Maintainable foreign currency accounts tailored for Diaspora
Easy access to its E-Channels & E-Banking services
Complex sign up requirements for accounts
Fewer options for both loans and advances
Addis International Bank Information
Contact Information
ABSCETAA

+251-115-549800

+251-115-570530

2455
Optional Diaspora Deposit Accounts
Automobile Loan
Mortgage Loan
Working Capital Loan
Consumer Loan
Can Check Balance
Can Transfer Money
View Account Statement
Can Control Progress
Can Pay Bills Online
Mobile Application
Balance Inquery
USSD Application
Mobile Top Up
Money Transfer
Personal Automobile Loan

16

Diaspora Mortgage Loan

9.8

Corporate Loan

16

Investment Loan

16

Working Capital Loan

16
Personal Saving

7%

Youth Saving

7.25%

Teen Saving

7.25%

Education Saving

7.25%
Apply for a loan here
Banks Ethiopia gives you the access and information you need to get car loan and house loan services in Ethiopia from the bank of your choice. If you are a non resident and/or a foreigner with origin of Ethiopia looking for these loan services, make sure to visit our diaspora mortgage loan and diaspora vehicle loan pages to acquire a more detailed information.
Addis International Bank Exchange Rate
The exchange rate of Addis International Bank can also be found at ourexchange rates page, along with all other banks' exchange rates in Ethiopia today.
About Addis International Bank
Addis International Bank is a collective formation and effort of shareholders, Cooperatives, Micro Finance Institutions (MFIs), Iddirs, other business organizations, and individual citizens. In February 2002 EC(Ethiopian Calendar), Addis International Bank held its first general assembly, which had an outcome of shareholders owning more than 152,000,000 Million Birr and over 106,000,000 Paid-up capital. The number of shareholders has exceeded 8,500.
Services provided by Addis International Bank
Retail Banking
Saving Account
This is a savings account where it is to be operated by a passbook and contains an attractive interest rate. The minimum deposit required by Addis International Bank is 50 Birr. The bank demands customers who are interested in having such an account to fulfill a form and bring an ID Card that is valid and renewed as well as two photographs of passport size.
Special Saving Account
Addis International Bank provides a special saving account, where its customers can operate the account using a checkbook, with a good interest rate. A minimum deposit of 250 Birr is vital to have a special saving account, as well as a valid ID Card, 2 recent photographs of passport size, and a filled application form. This service by Addis International Bank has features from both savings and checking accounts, in which the customer is to have a checkbook to operate the account with allowed 5 withdrawals per month.
Current Account
This is an account where customers of Addis International Bank operate their current accounts using checkbooks. Additionally, customers get monthly statements and no limitations on withdrawings at any time. Depositing 250 Birr as an initial payment, having a valid trade license, ID Card, and two recent photographs with a filled application form are what AdiB requires to have a current account opened.
Time Deposit
This is an interest-bearing account, where individuals, businesses, companies, groups, and organizations are offered interest rates depending on excess deposited funds in their accounts for the short & long term. A minimum of 100 Birr is required by Addis International Bank for time deposit accounts, which have premature withdrawal allowance. Similar to any account openings procedure, the customer is required to have a valid and renewed ID Card & trade license, with two passport size photos and a filled application form.
Children Account
With an initial deposit of 25 Birr, guardians/parents can open a children's account, which has an attractive interest rate. The account is to change to an ordinary account after the minor reaches 18 years old. To open an account, however, the guardian/parent must present his/her address with two passport photographs and either one of the following:
Valid ID card
A church certificate
A municipality certificate, or
A certificate from a hospital, etc which anyways proves the date of birth of the minor
Student/Education Saving
This is a saving account, with an initial deposit of 25 Birr, for students who want to pursue higher education(Masters & PhD) with an attached loan for them. Quarter statements are issued since there is no passbook to operate the account with. The customer, who is a student, must have a regular income. To apply for a loan, the student can borrow to finance his/her higher education journey, but he/she must maintain the account for at least one year. Interest is dipped into the student's account, and an ATM card can be issued for free.
Consumer Goods Purchase Saving
Customers of Addis International Bank can have an interest-bearing deposit account for loans that the bank allows for the purchase of consumer goods like vehicles & household equipment and furniture. The account, with an initial deposit of 25 Birr and operated via a passbook, can be opened by a legal person and or the account holder him/herself. This account comes with an attached consumer loan, only if:
The account holder has a regular and stable income
Presented collaterals that AdiB accepts
When the minimum savings reaches at least 50% of consumer goods total amount
To open an account:
Two recent photographs
Valid ID card
An application letter
Company letter verifying the account holder's data, and
Other relevant documents as per the bank credit checklist
Housing Purchase/Construction Saving
This is an interest-bearing deposit account, where its deposited amount can be used as collateral for residential house construction or purchase. The account, which can be operated by a passbook, can be opened with a 25 Birr deposit, and either in person or via a legal agent. If the customer reaches 40% of the total cost of the house to be purchased/constructed, Addis International Bank is to avail the loan, as it is attached with the account. However, the account holder must have a regular income for the account to be eligible for such a loan.
Addis International Bank Credit Service
Term Loan
This is a loan that is to be repaid within a fixed time plus with additional interest, as the loan is used to finance working capital. depending on the nature of the business and cash flow status, the repayment process can be made in chunks regularly, in which Addis international Bank may give its loans services within short, medium, and long term loans.
Addis International Bank  provides these Term Loans: Agriculture Term Loan, and Manufacturing Term Loan
Revolving Credit
This is a short term targeting the exporters once they submit their export documents short of a bill of lading.
Pre-Shipment Credit
This is a renewable, short-term/one-time loan that is also given out to exporters so they can be capable of purchasing exportable commodities, processing, and make it ready for exports. The Pre-Shipment Credit can be issued with or without a DBE guarantee against the submission of Sales Contracts & Export Letter of Credit, which is to be used to address the financial needs of the exporters
Overdrafts
These are renewable, short-term advances, by which Addis International Bank customers are capable of withdrawing beyond what the maintained deposits they have in their current accounts.
Import Letter of Credit
This is a credit facility, provided by Addis International Bank to its customers who are engaged in import and export businesses upon payment of some percentage of the document.
Merchandise Loans
These are advances of short-term, which go against the merchandise or documentary proof, such as:
Railway Receipt
Warehouse Receipt, and
Airway Bills
Such loans are to be used as collateral when pledging by Addis International Bank.
Letter of Guarantee
This is a written promise by Addis International Bank that they will pay a sum of money to a recipient, either local or foreign, if the obligor, its customer, fails to satisfy his/her/its obligations in alliance with the terms and conditions of the contract. There are several types of guarantees that the bank provides, which include:
Advance payment Guarantee
Bid Bond Guarantee
Performance Bond Guarantee
International Banking at Addis International Bank
FX Permits
Addis International Bank offers an attractive interest rate for excess funds deposited in the fixed deposit account by the account holders, The bank offers that for both short & long term tenors. Additionally, customers can get easy access to foreign exchange facilities. Addis International Bank also has the following included in its FX Permits:
Import & Export transactions
Invisible payments
Franco valuta import
Small items export
Trade Services
Addis International Bank offers trade services, which are transacted all over the world, in its international banking service for:
Import & Exports Made by:
Advance Payments
Consignments
Irrevocable & Confirmed Irrevocable Letter of Credits (LC)
Cash Against Documents (Documentary Collections)
Letter of Guarantee:
Bid Bond Guarantees
Performance Bond Guarantee
Advance Payment Guarantee
Foreign Currency Management
Addis International Bank opens and maintains the following foreign currency denominated accounts to its eligible customers: Customers of Addis Intercan maintain foreign currency in several types of accounts, provided by the bank, which are:
Non-residential (N/R) and Foreign Currency Accounts
Diaspora Foreign Currency Accounts
Retention Accounts
Contact Information
Addis International Bank phone number: 251-115-549800
SWIFT: ABSCETAA, Addis Ababa, Ethiopia
Addis International Bank Head Office: Jomo Kenyatta St, Zequala Complex Bldg, Addis Ababa, Ethiopia
Latest News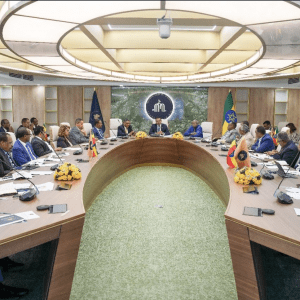 Addis Ababa, November 1, 2023 – In a significant move towards fostering unity and collaboration within the Ethiopian banking industry, the National Bank of Ethiopia (NBE) convened a crucial meeting today with Chief Executive Officers and Board Chairs of various banks. The meeting aimed to communicate the NBE's strategic priorities outlined in its new 3-year Strategy Plan, focusing on assessing the performance and challenges faced by the sector, particularly in credit and foreign currency allocation.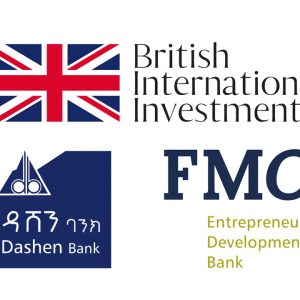 BII and FMO Announced that they have provided a loan of 20 million dollars each for a total of 40 million dollars to Dashen Bank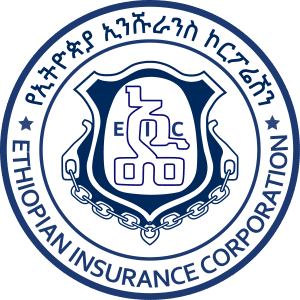 The total insurance coverage of the Ethiopian insurance corporation, which holds the largest market share of the Ethiopian insurance industry, has reached more than 4.4 trillion birr.