Dashen Bank received the first loan of 40 million dollars from Ethiopian banks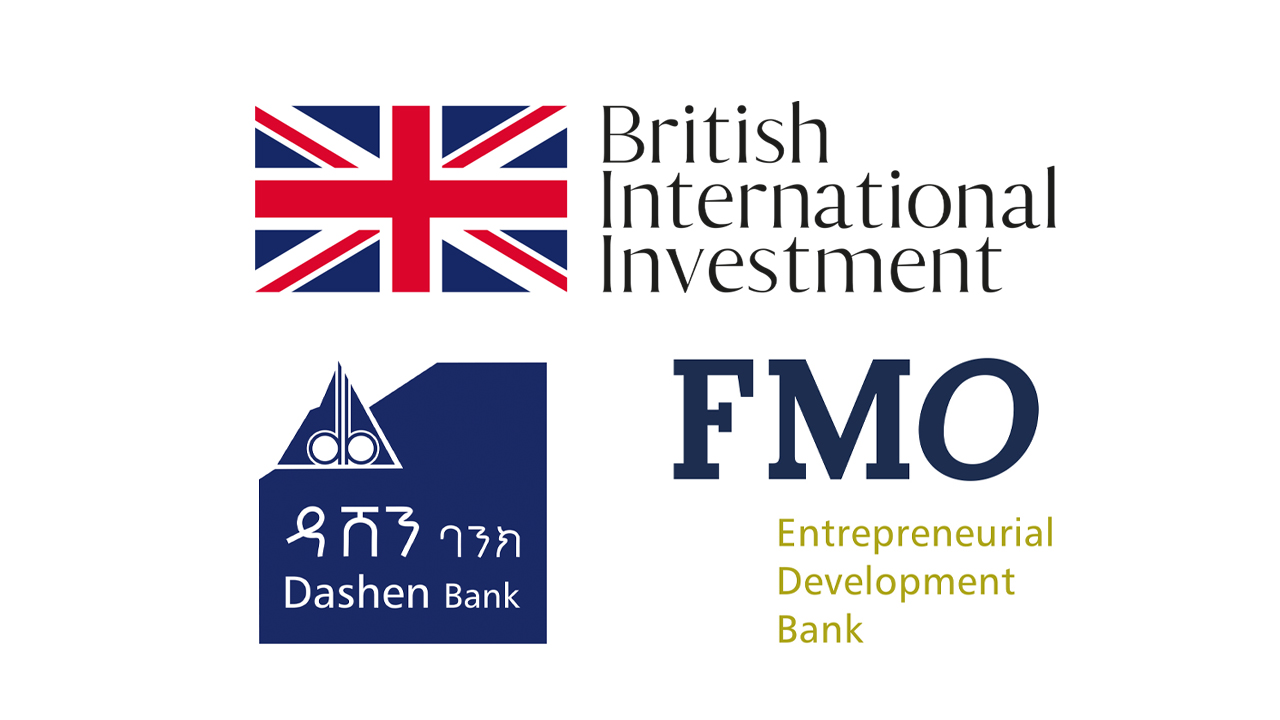 The British International Investment (BII) and The Netherlands Bank for Entrepreneurship and Development (FMO) Announced that they have provided a loan of 20 million dollars each for a total of 40 million dollars to Dashen Bank, one of the leading banks in Ethiopia. This credit provision will enable Ethiopia to increase its agricultural production for the foreign market and improve the supply of much-needed foreign currency.
The proposed loan will help the bank in its efforts to increase foreign exchange earnings. It will contribute to increasing the income from exports by providing inputs that can increase productivity, especially for those engaged in farming. The loan will be provided in foreign currency, which is in great shortage in the country, and will help the bank to provide a variety of services to its customers.
This includes providing foreign exchange for the import of modern equipment that can increase productivity in production, transportation, and processing processes.
The cooperation of financial institutions has a significant role in the development of the private sector.In this collaboration, BI and FMO.They are the first to provide a long-term loan in foreign currency to a financial institution in Ethiopia based on the new foreign exchange facilitation guidelines issued by the National Bank of Ethiopia in 2021. This important step will stimulate the market and help build confidence to raise additional funds from international investors.
Given Ethiopia's agricultural sector, which is expected to grow by an average of 6.2 percent in the next ten years, the financing provided by BII and FMO will enable Ethiopian exporters to generate more foreign exchange, and small producers who supply their products to the exporters will continue to increase their production and benefit from foreign trade. Financing provided to commercial institutions engaged in agriculture From flowers to coffee and livestock, financing for agricultural businesses will play an important role in promoting improved production methods, improving quality, meeting international standards, and adding value.
The financial provision will help to increase financial inclusion in our country where only 45 percent of the society owns a bank account by enhancing the economic capacity of producers and traders engaged in agricultural expenditure business.
Through this cooperation, BII and FMO will work closely with Dashen Bank to promote and establish international standards in Ethiopia in the areas of leadership risk management, environmental protection, and social and gender issues.
Dashen Bank chosen for remarkable partnership with international development institutions
Asfaw Alemu, the CEO of Dashen Bank, said, "We are very happy to be a pioneer in implementing the National Bank's directive that local investors who can generate foreign currency can get financing from foreign financial institutions through Ethiopian banks through the symbolic loan given to us by BII and FMO.
The loan offered in foreign currency is used to help customers engaged in foreign trade and the foreign currency that is much needed for the Ethiopian economy, our bank has shared a lot of experience, knowledge, and working style that will benefit the country by working with the two international financial institutions.
"We are very grateful to our bank for the support it received from its two development partners," he said. Finally, the chief executive said that the two institutions were very happy to provide financing with full confidence in the effectiveness of Dashen Bank and Ethiopia's agricultural sector.
Stephen Priestley, Chief Executive Officer and Head of Financial Services of BII expressed his happiness at being the first institution in international investment and announced that BII invested in Ethiopia 50 years ago.
"We are proud to be one of the first to enter the market that is opening up to the international community with this financial offer. In the last 50 years, BI has been the leading investor in Ethiopia.
FMO Financial Institutions Department Director Marnix Monsfort said, "We are delighted to participate in this pioneering opportunity for Dashen Bank and Ethiopia to access foreign direct investment and foreign exchange.
It is our dream to contribute to job creation and financial inclusion in rural areas by supporting the much-needed foreign currency loan for foreign trade-oriented agriculture. We thank Dashen Bank and BI for this great collaboration.