Awash Bank awarded the final winners of innovation competition 2023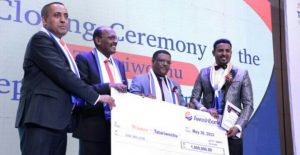 Awash Bank awarded the final winners of innovation competition 2023
Awash Bank, which was chosen to represent Ethiopia this year in the list of Africa's best banks, has announced that its total assets have exceeded 217 billion birr and its total loan stock has exceeded 161 billion birr.
Awash Bank innovation competition has come to End
Awash had a closing ceremony held for the entrepreneurship competition called "tatariwochu" which was aiming to help young entrepreneurs achieve their projects, the Bank has provided an interest-free loan service and a recognition award for the winners.
Awash Bank Chief Executive Mr. Tsehay Shiferau who was present at the event stated that his bank's performance in all sectors has achieved better results than the previous years, especially in terms of increasing the amount of assets, he pointed out that in the tenth month of the financial year, the total amount of assets was able to reach more than 217 billion birr. The chief also expressed the bank's commitment to fostering entrepreneurship and providing appropriate financial assistance as part of its social responsibility.
The innovation competition was up for participants from all Ethiopian regions who have innovations that can make any kind of positive difference to the community and is in lucked the necessary financial and material support to bring their innovates to fruition, the bank awarded those who fulfilled the judges' criteria and made it to the winners final with cash prize ranged from 100,000-1000000 with additional unsecured loan service up to 5 million birrs.
The  "tatariwochu"  or "Qatelwan"( in Afan Oromo language) entrepreneurs competition has been going on for a year and the Deputy president of Oromia regional state Mr. Awolu Abdi who was the guest of honor at the event appreciates the Bank's contribution to the community and on further points  Mr. Awolu stated that the regional state would provide a production and a sales channels for the winning innovators and support their effort.
The consistency also experienced their gratitude to Awash Bank for the given opportunity along with the regional government through their representative  Tsegaye Tesfaye, Tsegaye also urge the competition winners to strive diligently towards achieving the program's  objective