Abyssinia Bank Visa CyberSource Solution Popularity in 2020
Addis Ababa, Ethiopia


Abyssinia Bank has been striving to spread its motto, "A choice for all" in as many sectors as possible, one of them being in payment solutions that help businesses accept payments across channels and geographies.
This occurs at a time when e-Commerce enterprises have been steadily expanding in Ethiopia over the past few years due to the country's growing internet user base, increased use of mobile devices, and, to some part, COVID-19's effects.
Despite it being in its premature stage, the e-commerce sector is expected to boom in the coming years, especially with the development of the ecosystem and the implementation of the Digital Ethiopia 2025 strategy.
Abyssinia Bank, having realized the necessity of payment gateways for these businesses early on, partnered with Visa CyberSource, a subsidiary of global payments technology powerhouse Visa, to process online payments and provide efficient online fraud management in the country. By doing so in August 2020, Abyssinia became the first bank to implement a payment gateway in Ethiopia.
Why Payment Gateways? According to Abyssinia Bank Answer…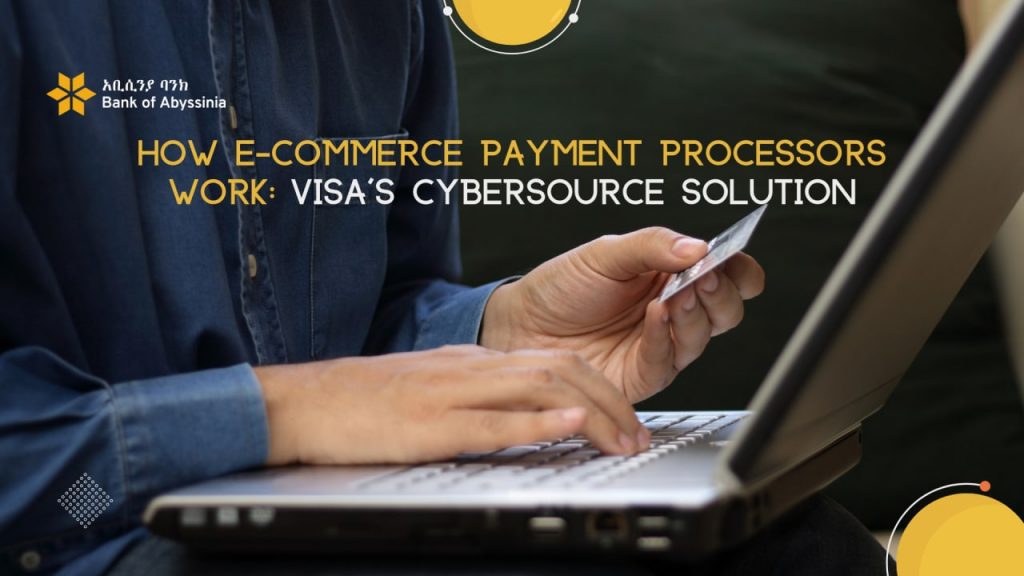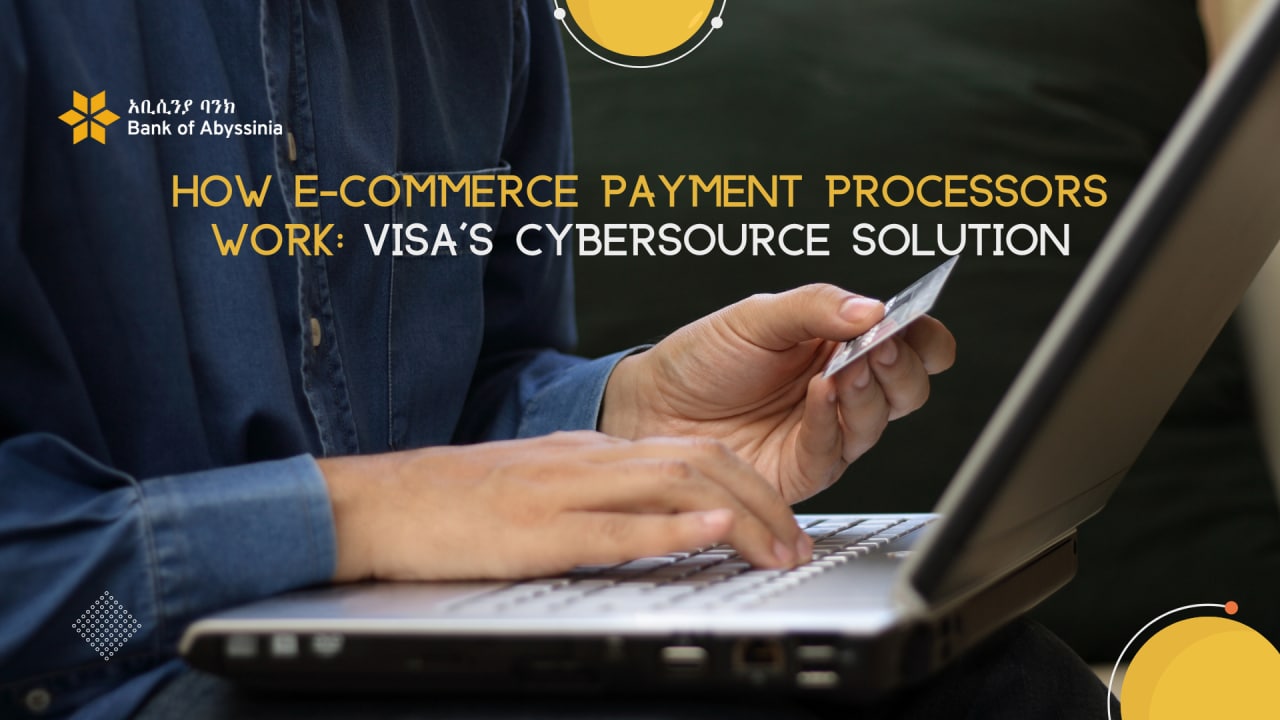 According to Abyssinia Bank's blog, an e-commerce payment gateway is a service or solution that permits businesses to accept cards and other electronic payments online by encrypting sensitive personal information, such as debit, credit, or prepaid card numbers, to prevent fraud and protect the data from being intercepted by third parties.
It is mandatory for e-commerce businesses to have this service installed on their platforms to receive fees over the internet.
Despite the existence of a few other types of e-commerce payment solutions in the market, Visa's CyberSource solution provided by Bank of Abyssinia (BOA) is the choice by many e-commerce businesses in Ethiopia right now, as per the Bank's blog.
Of the many benefits a typical transaction transfer software provides, it:
Contributes to sales growth by enabling companies to accept card payments from clients who might not have access to other payment methods.
Decreases fraud by encrypting sensitive data and preventing third parties from accessing it;
Give companies useful information about their clients' spending patterns and payment preferences
When looking at Abyssinia-led Visa's CyberSource online payment solution in the Ethiopian market, the benefits include a variety of features that make online payments easy and secure, with fraud detection, transaction management, payment configuration, and customer support, to name a few.
Businesses can conduct refunds and returns using CyberSource's services. Furthermore, it provides a range of statistics and analytics to assist organizations in efficiently tracking their payment processing operations. The primary features include:
Decision Manager: a powerful tool that helps businesses automate their fraud detection and prevention processes using AI, ML, and data from multiple sources.
Digital Invoicing: allows businesses to send invoice links directly to their customers through email or any other social media messaging apps and customers to pay their invoices online with a credit or debit card. This solution eliminates the need for a website as businesses can easily create payment links for customized or tailored price packages.
Tokenization: the process of replacing a customer's payment data piece with a non-sensitive equivalent, known as a token, in order to keep and remember it. By substituting random numbers that have no meaning and cannot be exploited for fraud, this can be used to substitute personal information such as social security numbers, birth dates, and credit card numbers.
Virtual Terminal: this feature enables businesses or merchants to make payments just by possessing the customer's payment information, absent the consumer. Additionally, the service enables companies to process card transactions without a physical point-of-sale (POS) terminal. However, it is reported that this feature was not active as of September 04, 2022.
Account Management: enables organizations to give various tasks and duties to staff members from various departments, resulting in a more precise and effective transaction process. Additionally, this tool gives business owners the opportunity to view all transactions, search for certain transactions, and filter transactions by status, enabling them to easily monitor their sales activity and evaluate the performance of their company.
Security: CyberSource's security feature, known as 3-D Secure, is extremely sophisticated and intended to offer an additional degree of security to online card transactions. For cardholders making a transaction, it includes an additional authentication step. A one-time password (OTP) is also used, which is delivered to the cardholder's cell phone, safeguarding both the cardholder and the merchant from unauthorized charges.
Abyssinia Bank Visa CyberSource Solution Testimonials
A testimony regarding this solution of Abysinnia Bank was forwarded by Deliver Addis, a food delivery e-commerce platform that allows customers to order meals from restaurants in Addis and have them delivered to their doorsteps.
Deliver Addis offers different payment options, such as mobile banking transfer, cash on delivery, and international debit/credit card payment, and has been a client of Abyssinia Bank's payment platform since 2021.
According to Firehiwot Molalign's statement to Abyssinia, Chief Finance Officer at Deliver Addis, the payment platform has enabled the firm to attract and retain customers who are using international cards. She also expressed her excitement upon learning that the Bank of Abyssinia has also started supporting local cards on the platform.
Many more businesses, FinTech companies, and banks, who sell goods or services online stand to benefit from this solution. Plus, Abyssinia Bank has been issuing domestic e-commerce-enabled cards and is now finalized to go live for an online payment solution in local currency, in addition to using international cards with a foreign currency. A team at the company is also on standby to assist businesses with the integration of the payment gateway API.
For more information, use Abyssinia Bank's toll-free number, 8397, or stop by the bank's head office to speak with a representative regarding the integration procedure, service payments, and the whole e-commerce payment system.