Women Banking
SME Banking
Enat Bilhat
Women Financing
Special Financing for Women
Pros and Cons
Women individuals & women-owned businesses can utilize many services
Loans are much more flexible when women apply for such advances and loans
A diversified board of directors that reaches out to its customers' expectations
Low integration of E-Banking with local vendors & businesses
126 number of brunches
Enat Bank Information
Contact Information
SWIFT

ENATETAA

+251-115 158278

507074
Optional Diaspora Deposit Accounts
Automobile Loan
Mortgage Loan
Working Capital Loan
Consumer Loan
Can Check Balance
Can Transfer Money
View Account Statement
Can Control Progress
Can Pay Bills Online
Mobile Application
Balance Inquery
USSD Application
Mobile Top Up
Money Transfer
Personal Automible Loan

14.5

Diaspora Mortgage Loan

14

Corporate Loan

14.5

Investment Loan

14.5

Working Capital Loan

14.5
Personal Saving

7%

Women Saving

7.5%

Youth Saving

7.5%

Teen Saving

7.5%
Apply for a loan here
Banks Ethiopia gives you the access and information you need to get car loan and house loan services in Ethiopia from the bank of your choice. If you are a non resident and/or a foreigner with origin of Ethiopia looking for these loan services, make sure to visit our diaspora mortgage loan and diaspora vehicle loan pages to acquire a more detailed information.
Enat Bank Exchange Rate
The exchange rate for Enat bank can also be found at ourexchange rates page, along with all other banks' exchange rates in Ethiopia today.

| code | name | buying | buyingTrend | selling | sellingTrend |
| --- | --- | --- | --- | --- | --- |
| USD | United States Dollar | 53.1422 | | 54.205 | |
| GBP | British Pound Sterling | 62.1342 | | 63.3769 | |
| CHF | Swiss Franc | 0 | | 0 | |
| SEK | Swedish Krona | 0 | | 0 | |
| NOK | Norwegian Krone | 0 | | 0 | |
| DKK | Danish Krone | 0 | | 0 | |
| KES | Kenyan Shilling | 0 | | 0 | |
| JPY | Japanese Yen | 0 | | 0 | |
| DJF | Djiboutian Franc | 0 | | 0 | |
| CAD | Canadian Dollar | 0 | | 0 | |
| AUD | Australian Dollar | 0 | | 0 | |
| SAR | Saudi Riyal | 0 | | 0 | |
| AED | United Arab Emirates Dirham | 0 | | 0 | |
| ZAR | South African Rand | 0 | | 0 | |
| CNY | Chinese Yuan | 0 | | 0 | |
About Enat Bank
A diversified group of 11 Ethiopian Women founded Enat Bank, with a vision to maximize women's economic capabilities and to be an inclusive bank. The 11-person board of directors is 6 women and 5 men with several and different backgrounds. There are more than 17,000 shareholders who have invested in Enat Bank of whom more than %60 are female.
Services provided by Enat Bank
Personal Banking
Savings
Regular Saving
This is an interest-bearing account in which customers earn a minimum interest rate set by Enat Bank. Regular saving accounts are of short-term savings that are adaptable. When a timeline for withdrawal on the minimum balance doesn't exist. Additionally, regular savings extends its services to cover.
Liquid savings
On-demand deposit & withdrawal.
Premium Saving
Enat Bank provides a Premium Saving account. Potential depositors can, with this product, track the amount of deposit. The product has an attractive and continuous saving interest. Enat Bank has three stages of premium accounts, which is conditional to a minimum deposit balance in one's account:
Children's account Saving
This is an account dedicated to children who are under 18 years old. It has a higher interest rate which motivates their parents/guardians to save for them.
Savings accounts for Golden Age
These are longer-term accounts that are concentrating on saving for a faraway incident upon the customer's request. It comes with a higher and better interest rate as well as an attractive form specifically for the individual.
Non-interest bearing
The non-interest bearing account doesn't gain interest if the customer asked for such an account type.
Hybrid savings
Enat Bank offers its customers the scope to both do recurrent transactions/payments and save the principle by gaining interests.
Time Deposit
At a particular, pre-agreed upon, and wide range options for a fixed interest rate, paid on a monthly basis, fixed deposits are accepted by Enat Bank. The monthly basis payment may also be a monthly capital that is to be paid on maturity period, as per the agreement the customer has with Enat Bank.
Current Account
Based on the minimum balance, an insignificant interest rate might be regarded to the customer on a defined timeframe. With this account, Enat Bank customers can quickly move transactions and pay nominal interest annually.
Enat Bilhat
Enat Bank offers Enat Bilhat as an attractive interest rate deposit for depositors, which deposits must be done only in a fixed amount of money for, also, a fixed amount of time. The interest rate grows after the termination of the period of the deposit made.
Checking accounts
Enat Bank's customers can easily retrieve their deposits using the checking account.
Plus Services
Additionally, the bank's customers can also have the following:
Sweeping
Fund Transfer/payment
Fund Management
Safe Deposit Box
Payment Instruments
Gift Certificates & Cards
E-Payments & Services, which is not available at the moment.
Loan and Advances
Business Loans
Enat Bank is there to help and support its customers to raise their working capital by providing services like overdraft and short-term credit. Either you are taking part in domestic/international business, having intentions to start a business, expanding an existing one, wanting to buy a new vehicle/machinery, you can always approach Enat Bank for their services.
Facing pre-shipment money shortage as an exporter, get your solutions from Enat Bank as they have dedicated services/credit facilities for pre-shipment that might help and support you get raw materials, processing, warehousing, packing & transporting goods for the timeframe of the shipment.
Consumer Loans
For individual borrowers, Enat Bank has more credit services, in which such loans can allow you to get your own house/car, furniture, pay fees like education, travel, medical expenses as well as several other commitments.
Enat's Choice, which is one of Enat Bank's credit facilities, the objective is to smooth women's work-load by giving the chance to purchase house equipment, kitchen devices/gadgets, and furniture
International Banking
Trade Finance Services
Customers of Enat Bank can opt to do international tradings, which the bank has dedicated services
Import
Documentary credit
Documentary collection and
Advance payment
Export
Documentary credit
documentary collection and
advance payment
Consignment Foreign Guarantees
Remittance Services
Incoming & outgoing Transfers
Services of Foreign Check
Clearing foreign checks
Buying foreign cheques that are clean
Forex Services
Forex Services include purchasing & selling cash notes of foreign currency. Services regarding Foreign Currency Account (Diaspora)
Non-Resident Foreign Currency Accounts
Non-Resident Transferable in Ethiopian Birr (ETB) Account
Non-Resident Non-Transferable in  Ethiopian Birr (ETB) Account
Foreign Currency A/Cs for Ethiopians in Diaspora, and
Retention Accounts
Exchange Rate
Enat Bank has quick and smooth money transfer services with many agencies, such as Transfast, WorldRemit, Ria, Western Union, Dahabshill, XpressMoney, Moneygram.  The bank's daily exchange rate can be found here.
Other Services
Advisory services
Apart from all the services Enat Bank does provide, they give consultation service if you have the intention to start a new business, raise your financial status, get to know Enat Bank's services and products, and more.
Women Financing
Collateral Saving
Enat Bank introduces the Enat Collateral Saving Account, which is an account where national/international organizations, private, governmental, and/or concerned individuals. They do a specific amount of deposit that is to be blocked for a determined while, which is to be used as a warranty.
The bank has partnered with some gurus development partners, who will be providing training and business advisory services for potential recipients of the plan. Such advisors might assist in preparing business plans and make sure that the business is in fine shape and form. Also, it will ensure that loans are paid as agreed and scheduled in order to reduce defaults.
Loan under USAID/SIDA Guarantee scheme
Private enterprises that are registered in Ethiopia can get used and qualify for this type of loan. An obligation is that at least %51 of the enterprise must be owned by women.
%50 of the requested loan must be offered by a collateral equivalent, which can be in the form of cash substitute, bank share & bonds, and/or buildings.
Women Special Loan
This is a loan targeting small and medium businesses owned by women, where it is a loan against cash collateral. Those women may lack the collateral to raise their businesses.
To apply, a woman or business only owned/managed by women is a must.
Ethiopians by nationality
Can show a certificate that proves that she/they does/do not have any kind of property that is registered in her/their name or spouse's name.
Women Savings Account
As part of the women empowerment strategy, Enat Bank has introduced the Women Savings Account that is targeting those who would like to have savings routines and exploit the 5.5% interest rate that Enat Bank provides.
Non-Financial Services
This is combined with tools and tailored training to give out financial literacy. Enat Bank believes that having the proper financial education will promote their choices to have a better life. Training is provided in all of Enat bank's branches, which contains interesting games, educational drama, and more.
Capacity building
With the sponsor of our development partners, Enat Bank arranges both capacity building and advisory services for Small and Medium Businesses that are owned/managed by women. The partners, who are advisors, might get involved in preparing business plans as well as giving out training and advisory services.
Soon enough, Enat Bank is to have much more detailed, specifically tailored services and products that will help women and owned/managed SMEs by women in fulfilling their needs.
Digital Banking
E-Banking / EnatOnline
With EnatOnline, no need for long queues and delays as long as things can be done simply from home or anywhere.
You can use EnatOnline by either SigningUp or SigningInand be entertained by a number of countless services.
Services Available on EnatOnline
Branch / ATM location information
Balance Enquiry
Bulk payment
Effecting payments to third parties, for example:
DerashBill Payment
Display Forex Rate
Topping up mobile (card)
Periodic Payments (standing instruction)
Cheque Status, book, and stop payment requests
Fund Transfer:
within Enat Bank, you can do fund transfer to your own account/accounts
Fund transfer to other accounts in Enat Bank
Account alerts, security alerts, and reminders
PIN management & authorization
Mini Statement
Enat Bank has Enat Internet Banking (EnatOnline) available upon request 24 hours a day. Make sure to check the terms and conditions.
Mobile Banking
Enat Bank mobile Banking service have the following package:
Branch / ATM location information
Local Remittance from your account
Balance & Transaction notifications.
Balance Enquiry
Bulk payment
Effecting payments to third parties, for example:
DerashBill Payment
Display Forex Rate
Topping up mobile (card)
Periodic Payments (standing instruction)
Cheque Status, book, and stop payment requests
Fund Transfer: within Enat Bank, you can do fund transfer to your own account/accounts
Fund transfer to other accounts in Enat Bank
Account alerts, security alerts, and reminders
PIN management & authorization
Mini Statement
To access the USSD of Mobile Banking of Enat Bank, call *845#
Contact Information
Enat Bank phone number: +251 115 158278 / 507074
Enat Bank email address: [email protected]
SWIFT: ENATETAA, Addis Ababa, Ethiopia
Enat Bank Head Office: Kirkos sub-city, woreda 8, in front of Yordanos Hotel, Addis Ababa, Ethiopia
Latest News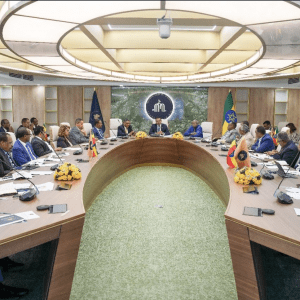 Addis Ababa, November 1, 2023 – In a significant move towards fostering unity and collaboration within the Ethiopian banking industry, the National Bank of Ethiopia (NBE) convened a crucial meeting today with Chief Executive Officers and Board Chairs of various banks. The meeting aimed to communicate the NBE's strategic priorities outlined in its new 3-year Strategy Plan, focusing on assessing the performance and challenges faced by the sector, particularly in credit and foreign currency allocation.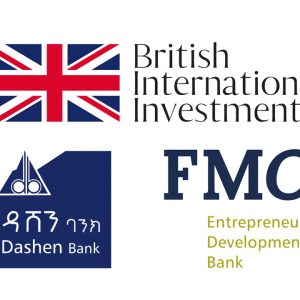 BII and FMO Announced that they have provided a loan of 20 million dollars each for a total of 40 million dollars to Dashen Bank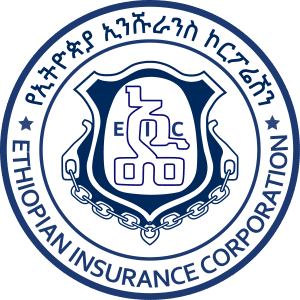 The total insurance coverage of the Ethiopian insurance corporation, which holds the largest market share of the Ethiopian insurance industry, has reached more than 4.4 trillion birr.